Non-Dismantle Car Fuel Injector Cleaner Testing System&Tester Fuel Adapter Kit Petrol Car Cleaning Tool 145 PSI 120PSI 800/600ml
Roll over image to zoom in
Click to open expanded view
Non-Dismantle Car Fuel Injector Cleaner Testing System&Tester Fuel Adapter Kit Petrol Car Cleaning Tool 145 PSI 120PSI 800/600ml
Features:
* The fuel system can be removed from the cleaning.
* The intake system can be cleaned (with the intake of cleaning nozzle).
* Quick and fast connector.
* The key parts of aerospace seals, corrosion resistance, wear-resistant fatigue.
* Import corrosion-resistant tubing, suitable for any cleaning solvents.
* Import pressure regulating valve, durable.
* Special process treatment one-way valve, good air tightness.
* Rapid refueling port design, convenient and practical.
* A variety of models of joints, with most models to match.
* Optional clamp clamp, fast and safe.
Check fuel injection style, throttle or EFI:
TO EFI STYLE:
-1、Find out the fuel return hose, disconnect it and plug it with suitable adaptor;
2、Find out the fuel inlet hose, disconnect it and connect it with the outlet hose of the cleaner with proper adaptor;
-Connect the outlet and return hose of the fuel tank, and open the tank
cover; if there is not return hose, please move the fuse of the fuel
pump so that the pump will not work;
-Charge the cleaning fluid into the tank of the cleaner;
-Connect the air source to the air port of the cleaner, adjust its pressure 40-50PSI;
-Check all connect point to make sure there is not leakage;
-Start the engine to clean the fuel system.

To the throttle style system, the way of connection is the same, just adjust the pressure of the air source 1-5PSI.
The way to identify the inlet and return hose:
-Generally speaking, inlet hose is bigger, return hose is samaller;
-There is always a filter connected in the inlet hose side, and a buffer in the return side;
-There is arrow on the hose to show the fuel flow direction.
Specifications:
Pressure: 0-145PSI/0-120PSI
Tank: 800ml
Air source connector outer diameter: 8mm / 0.31 "
Air source connector inner diameter: 4mm / 0.16 "
weight: 3.9kg/3.5kg
Case size: 43x36x11 (cm)
Package included:
1 x Fuel Injector Cleaner
1 x Adapter Kits
1 x Suitcase
NOTE:
-Clean liquid is not included. Work on gasoline injector only, do not use it on diesel injector.
-For some US cars, you have to change the air plug to 3/8″ which is not included in the package.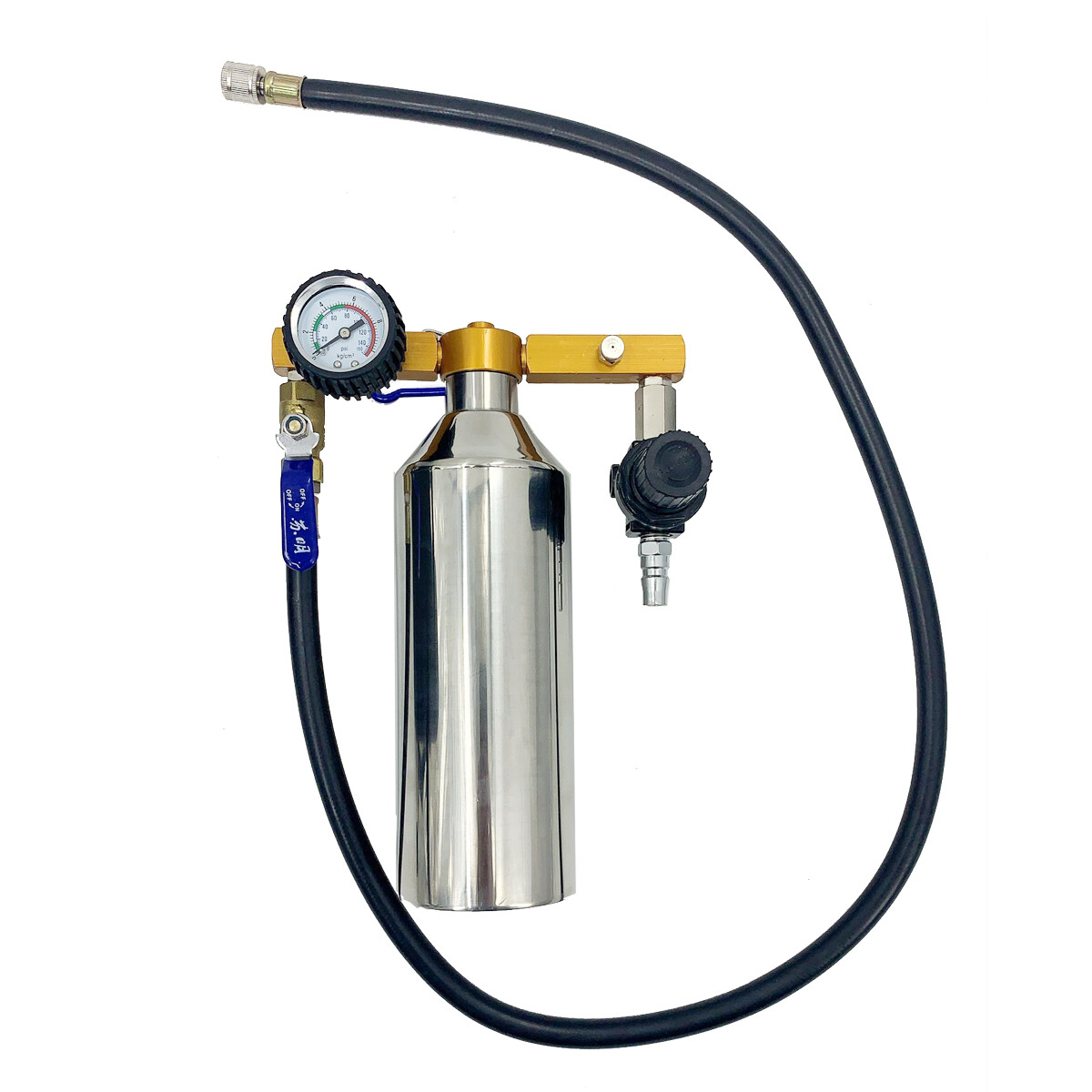 Additional information
| | |
| --- | --- |
| ships-from | Czech Republic, United States |
| color | 600ML, 800ML |